Rescue Mission Goal SMASHED - $298,000!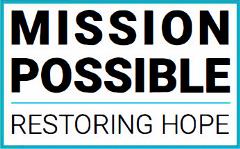 Thank you Topeka!! The $100,000 Mission Possible community challenge, benefiting the Topeka Rescue Mission, has been met and the goal exceeded! In recent weeks, our community has rallied with donations totaling $149,000. The initial match was for $100,000 but we are matching the overage which brings the total to: $298,000!
Since CoreFirst's inception our focus has been to make a difference in our communities whether it is through support, time or resources. Once news of the Mission's plight was clear, we knew we wanted to "be the difference" for TRM and their fundraising efforts. Therefore, CoreFirst in conjunction with WIBW, The Topeka Capital-Journal and Lamar Outdoor Advertising issued the "Mission Possible: Restoring Hope" community support campaign.
Donations are still welcomed for the Mission through September 18th at any Topeka CoreFirst Bank & Trust location or online at the following: CoreFirstBank.com, wibw.com or cjonline.com.
Thank you Topeka & our media partners! Together we raised $298,000.00 making the Mission Possible today and for years to come.